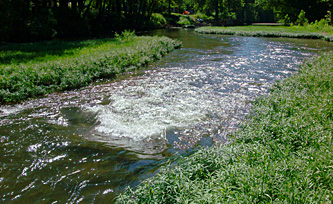 Reservations are guaranteed at time of payment only. Large groups must send in a deposit to guarantee availability. Cancellations or reductions must be made by 10 am three days before your trip (example: by 10 am Wednesday morning for a Saturday float), or deposit will be forfeited. No exceptions! Exclusions apply. If your group needs to cancel please call us for details.
We accept cash, check or money orders. Sorry, we do not accept debit or credit cards.
Rain Policy
If it is raining at noon at Cherokee Landing, or if management determines that the river is not suitable for floating, you may request a rain check for use within a two-year period for the date of your choice, based on availability. Please call in advance to reserve your rain check date. No refunds for rain days.
Dog Policy
Dogs on leash allowed in camping area. Dogs not allowed in rafts or tubes.