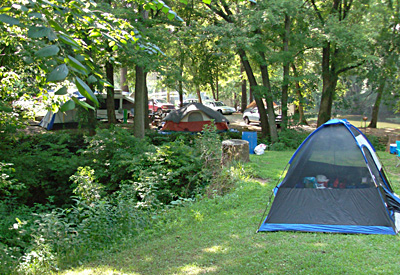 Camping
Facilities include showerhouse, clean restrooms, fire rings, picnic tables and grills. You can swim and fish in the river. Many riverside campsites exist. There is a common area with volleyball and horseshoes for campers. Dogs on leash allowed in camping areas. You need a license to fish in the river.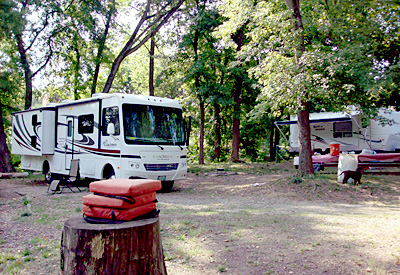 Rates per night
• Water & Electric sites: $25
• Up to 4 adults, 2 tents max.
• Primitive Camping: $20
• Up to 4 adults, 2 tents max.
• Over four people: $6 per camper, per night
• Visitors to customer's campsites: $6 each
Two full hookup sites also available. There is a dump station for our campers. Cherokee Landing is able to accommodate horses and horse trailers. Primitive camping sites only.
Camping rates are for up to four people per site, maximum 2 tents per site.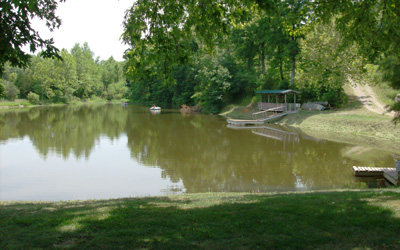 Fishing in our stocked lake
Cherokee Landing has a two-acre fishing lake stocked with bass, catfish, crappie and bluegill.
• $5 per person catch-and-release
• $20 per day, max 4 keepers. $3 each additional fish over 4 fish limit.
• 1 pole per fisherman only!
• Child under 5 free with paid adult
Boat launch and landing
• Boat launch and landing for your own boat: $6 per boat
Store
Cherokee Landing has a General Store offering sundries, camping & floating accessories, souvenirs, drinks, shades, bait and tackle.
Community Service
Cherokee Landing is the proud sponsor of Stream Team 1314 and has adopted a 20 mile section of the upper Big River for regular cleanups and participates in Operation Clean Stream held the last week in August. Volunteers are always needed for this event.
Cherokee Landing is a 20 year member of the Missouri Canoers & Floaters Association, an association of professional liveries and outfitters, leading suppliers and manufacturers, and leading businesses which are committed to promoting, protecting and preserving the streams of Missouri.
Ask about our riverside camping. Local lodging is available.