We are closed for the season. We hope to be open as weather permits in the spring.

Why the Big River?

You will avoid the crowds of many of Missouri's float rivers, while enjoying the relaxing natural surroundings of this Northern Ozarks stream. Big River's name is quite a misnomer. Early French settlers named the river Grande due to its beauty and during translation to English the name "Big" evolved. Big River is a tributary of the Meramec River, flowing north to the confluence.
Float through the forested ridges and cool hollows of St. Francois State Park.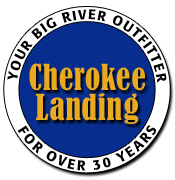 The Big River marks the southern boundary of the park. Scenic dolomite bluffs overlook the river and grassy forest openings known as glades occur on several of the south-facing slopes. This Ozark stream is ideal for families and canoeists. Fishermen enjoy casting for bass, catfish and sunfish. Cool off by taking a dip in a swimming hole or along the river's edge. The hills of St. Francois State Park serve as a natural refuge from modern-day life for thousands of visitors each year.
Cherokee Landing is a small outfitter and the only one on this portion of the Big River, so you will not find the over-crowded condition of other rivers.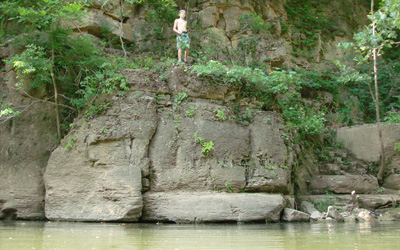 The Big River is a relatively safe, slow-moving Ozark stream, with scenic bluffs and many gravel bars for picnics, swimming and artifact hunting. A class 1 river, the upper Big River is perfect for kids and beginners, and those who just want to kick back and relax while floating down the river.
Cherokee Landing is centrally located with easy highway access and is within an hour of St. Louis. Float trips start upstream and end at Cherokee Landing.
Water Levels
Because of our location on the upper portion of the river, the water level around Cherokee Landing can rise and fall very quickly. Very often, when the St. Louis or Steelville areas have floods, Cherokee Landing has an excellent float. Please call ahead to check the river condition. Click here to view USGS water level data for the Big River.
We are open:
Friday & Saturday for camping • Saturday & Sunday for float trips
Reservations are not required but recommended as availability cannot be guaranteed without it.
Weekday floats and camping are only available with a prearranged appointment.
We request that all floats end before dusk.